Foundation for Facial Aesthetic Surgery 2018 Program

Click the button below to download the latest FFAS 2018 Program.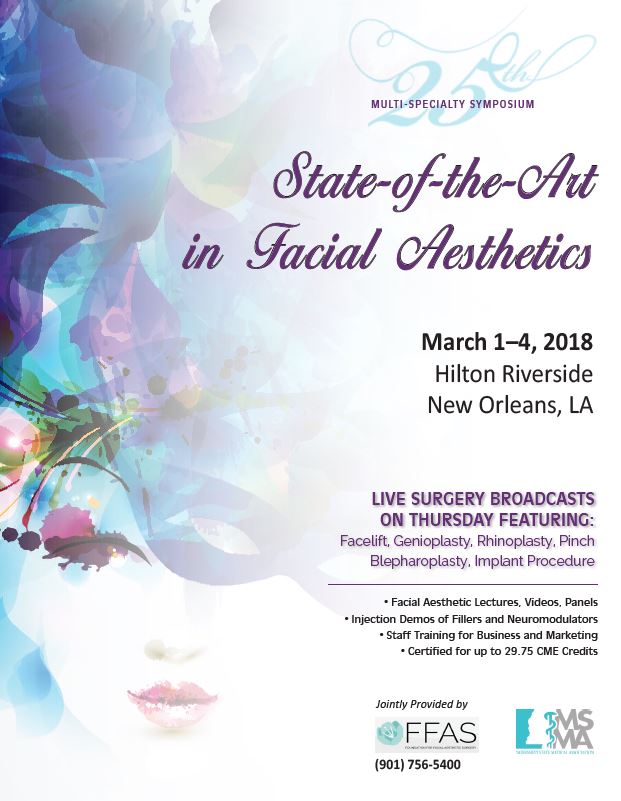 Statement of Accreditation
This activity has been planned and implemented in accordance with the accreditation requirements and policies of the Accreditation Council for Continuing Medical Education (ACCME) through the joint providership of MS State Medical Association and the Foundation for Facial Aesthetic Surgery. The MS State Medical Association is accredited by the ACCME to provide continuing medical education for physicians." MSMA designates this live activity for a maximum of 29.75 AMA PRA Category 1 Credit(s)™. Physicians should claim only the credit commensurate with the extent of their participation in the activity.
Foundation for Facial Aesthetic Surgery 2018 Track Listings 
Click here for Surgical Track Topics
Click here for Non-Surgical Track Topics
FFAS 2018 Speaker List
Subject to changes
| | |
| --- | --- |
| Course Directors | New Orleans Administrator |
| J. Randall Jordan, MD, Jackson, MS | Parker Velargo, MD |
| Farzad R Nahai, MD, Atlanta, GA | |
| Candace Crowe, Orlando, FL | |
PLASTIC SURGEONS
| | |
| --- | --- |
| Robert Bowen, MD, Martinsburg, WV | Salvatore C. Lettieri, MD, Scottsdale, AZ |
| Paul J. Carniol, MD, Summit, NJ | Hamid Massiha, MD, New Orleans, LA |
| Jorge de la Torre, MD, Birmingham, AL | Stephen E. Metzinger, MD, New Orleans, LA |
| Karol Gutowski, MD, Chicago, IL | Farzad R Nahai, MD, Atlanta, GA |
| Kamran Khoobehi, MD, New Orleans, LA | Galen Perdikis, MD, Jacksonville, FL |
| | Oscar M. Ramirez, MD, Boca Raton, FL |
FACIAL PLASTIC SURGEONS
| | |
| --- | --- |
| Mark Beaty, MD Alpharetta, GA | David Rodwell, Charleston, SC |
| John L. Frodel, MD, Atlanta, GA | James R. Shire, MD, Chattanooga, TN |
| Richard Gentile, MD, Youngstown, OH | William E. Silver, MD, Atlanta, GA |
| H. Devon Graham, MD, New Orleans, LA | Michael Somenek. MD, Washington, DC |
| Timothy M. Greco, MD, Bala Cynwyd, PA | William H. Truswell, MD, Northampton, MA |
| David Holcomb, MD, Sarasota, FL | Parker Velargo, MD, New Orleans LA |
| J. Randall Jordan, MD, Jackson, MS* | Steven Weiner, MD, Destin, FL |
| Jeffrey J.Joseph, MD, Lafayette, LA | Sean R. Weiss, New Orleans, LA |
| Phillip R. Langsdon, MD, Memphis, TN | Seth A. Yellin, MD, Atlanta, GA |
| Corey Maas, MD, San Francisco, CA | Richard D. Zeph, MD, Indianapolis, IN |
| E. Gaylon McCollough, MD, Gulf Shores, AL | Giancarlo Zuliani, MD, Birmingham, MI |
| Burke P. Robinson, MD, Alpharetta, GA | |
OCULOPLASTIC OPHTHALMIC SURGEONS
| | |
| --- | --- |
| Holly Barbour, MD, Sarasota, FL | John Martin, MD, Coral Gables, FL |
| Lisa Bunin, Allentown, PA | Rebecca Metzinger, MD, New Orleans, LA |
| Brent Hayek, MD, Atlanta, GA | Sara Wester, MD, Miami, FL |
| Joon Kim, MD, Atlanta, GA | |
DERMATOLOGISTS
| | |
| --- | --- |
| Rosalyn George, MD, Wilmington, NC | Sarah Jackson, MD, New Orleans LA |
| Elizabeth Grieshaber, MD, Metairie, LA | Mary Lupo, MD, New Orleans, LA |
| Deirdre Hooper, MD, New Orleans, LA | Jennifer Peterson, MD, Houston, TX |
| Janine Hopkins, MD, Monroe, LA | |
STAFF TRAINING, MARKETING & SPA SPECIALISTS
| | |
| --- | --- |
| Debra Atkins, MD, MBA, Atlanta, GA | Peter Houtz, Rancho Cucamonga, CA |
| Jose Barrera, MD, San Antonio, TX | Jonathan Kaplan MD, MPH, San Francisco, CA |
| Robert Baxter, Miami Beach, FL | Kelly Lance, MSN, APRN |
| Michael Burgdof, MD, Nashville, TN | Ryan Lehrl, Jupiter, FL |
| Sandra Cooper, RN, Altamonte Springs,FL | Catherine Maley, Sausalito, CA |
| Candace Crowe, Orlando, FL | James Marotta, MD, Smithtown, NY |
| Timothy Crowe, Orlando Florida | Samuel Peek, Irvine, CA |
| Thomas Fiala, MD, Altamonte Springs, FL | Christy Perry, Longwood, FL |
| Stacy Folk, MD, Denver, CO | Linda Persall,  Atlanta, GA |
| Bill Fukui, Golden, CO | Steve Schadt, Sarasota, FL |
| Juli Geldner, JD, LLM | Julie Sharp, Carmel, IN |
| Timour Haider, Carlsbad, CA | Eileen Slutsky, RN, BSN, Raleigh, NC |
| Ron Hartley, Lehi, UT | |